Lauren Kincaid is a DEA Agent assigned to live in Graceland. Her partner is Donnie Banks.
Character Profile
Edit
As a DEA Agent, Kincaid was working undercover with the Russian Vzakonye crime family. She was present when her partner's drug buy went bad.
Relationships
Edit
Kincaid's feelings for her former partner Donnie seem to be very strong.
Lauren seems to have some hatred for Mike since he arrived at Graceland. She may be upset because Mike replaced her former partner Donnie Banks and took his room. This is shown in the Pilot episode, where she is seen telling Mike not to move any of Donnie's belongings.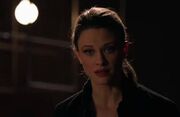 → See 1 pictures of Kincaid at Images of Kincaid.